Phase 2 Investigation
What does it involve?
Trial pits to investigate the capping and contents of an old landfill London Borough of Bexley
If the Phase 1 Environmental Report indicates that there may be contamination present then a Phase 2 investigation should be designed and undertaken to ascertain the presence of  possible contamination and its extent. This could be undertaken as a stand alone exercise or cost effectively combined with a geotechnical investigation to provide information for foundation design.
It may be necessary to undertake trial pits to physically inspect the ground and any fill material that has been placed on the site. Soil samples will be taken for testing in a laboratory which has the appropriate certification: These may be taken from trial pits or boreholes or near surface samples collected by hand.
Longer term sampling or monitoring may be required for water courses and ground water or to monitor gases such as methane which may be migrating to the site from old landfills or natural deposits.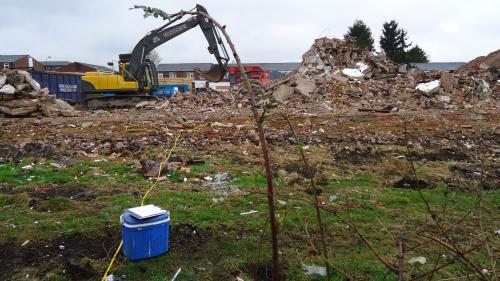 How much investigation is required?
This will depend on the size of the site and nature of the contamination and the proposed site use. The aim of the investigation is to ensure that sufficient information is gathered to enable a cost effective Remediation Strategy to be developed to make the site suitable for the proposed use. A well researched Phase 1 Environmental Report will enable the Phase 2 investigation to be targeted at the areas of concern and avoid unnecessary testing and investigation.
What happens if contamination is found?
If significant contamination is found, be it in the soil or groundwater in the form of ground gas or vapours a Remediation Strategy must be prepared.